Korapat Duangcham (N'Ice) 
Finn 9
Graduated from The University of Northampton  – Top 50 Best Universities in England
Faculty : BA (Hons) Business & Management (First Class Honors)
What is your dream?
I had always dreamed of becoming part of Google company. Google is my dream company that has its headquarters in Singapore.
Recently, we've heard a good news that you got a job as Digital Marketing consultant in Malaysian company. Please tell us a little bit about your company and the reason you choose to work at this company?
The company is Teledirect Telecommerce, a digital marketing company who has a subcontract with Google. So, I think it would be a great opportunity for me to work here first to gain experiences and then, later, I am going to follow my dream to apply for a job at Google. 
Do you have a friend or someone you know living in Malaysia? 
My close friend is Malaysian. We met at the University of Northampton and this friend was very supportive and helped me a lot when we studied there. 
Are you excited to move to Malaysia? 
Yes. But our company is a multinational company with employees coming from countries including Korea, Japan and also Thailand.  So, I'm pretty sure it won't be difficult to get along since I myself also have an experience from studying abroad in the UK where there were students coming from different parts around the world. I will start working on June 12, 2019 and the company would take care of the airline ticket and fin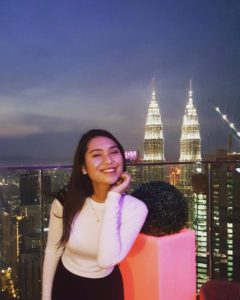 Can we talk a little bit more about salary?  
About 4,800 Ringgit Malaysia (approximately 37,000 Baht) which is an ok rate for me because the cost of living in Malaysia is quite similar to Bangkok. The big difference is I will get to communicate in English for all the time I'm living there.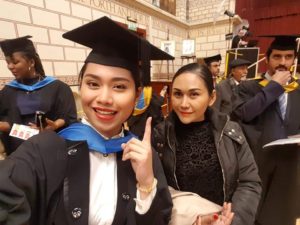 You are doing a really great job! We're glad you get this job that would give you such a good opportunity for your future career path and it's really a job that you wish to do. 
The reason I choose to study at Finn is because it takes only  3 years to get the degree and for my case, I could start taking some courses at Finn since I was still a senior in high school. Also, the first two years at Finn really helps prepare me for my final year in the UK because the lectorers here have tought us all the fundament concepts clearly and  also gave us many good advices. The staff, my seniors and friends at Finn are all very nice and friendly. I really enjoyed studying at Finn.